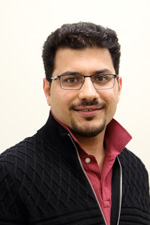 Arash Mahnan, Kinesiology Ph.D. student and IT Fellow, is one of three people featured in the Global Programs and Strategy Alliance online newsletter, Global U, promoting Driven: The University of Minnesota Campaign, the first system-wide fundraising campaign at the U of M in more than a decade. The Alliance has set a goal of raising $7 million to "Drive a Global U."
Mahnan discusses his goal to fill the gap between engineering and clinical research, and the imperative to attract top students and faculty from around the world to come to the University of Minnesota. He is a student in the area of biomechanics and neural control and is advised by Juergen Konczak, Ph.D.
Read Mahnan's feature here.