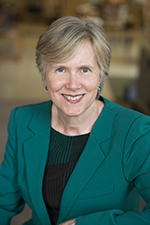 Ann S. Masten, Ph.D., Regents Professor and Irving B. Harris Professor of Child Development in the Institute of Child Development (ICD), was recently featured in an article appearing in the September 2017 issue of the American Psychological Association's Monitor on Psychology.
The article, "Maximizing children's resilience," by Kirsten Weir, highlighted new research that examines how to foster resilience in children and adolescents and the importance of early intervention.
According to Masten, the field has shifted from focusing on traits of resilient individuals to looking at resilience from a systems perspective. For example, Masten, along with other researchers, have found that having supportive relationships, including with parents or primary caregivers, is important for healthy development.
"The resilience of an individual depends on drawing resources from many other systems," Masten says. "A child is embedded in interactions with friends, family, community. The way those other systems are functioning plays a huge role in the capacity of that child to overcome adversity."