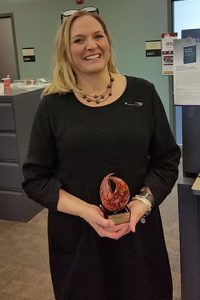 Jennifer McComas, associate chair and special education professor in the Department of Educational Psychology, is the CEHD nominee for this year's President's Community Engaged Scholar award. This award recognizes  faculty involvement in public service and encourages and emphasizes civic engagement as a permanent priority of the College of Education and Human Development.
McComas was recognized on March 30 in a University-wide ceremony hosted by the Office for Public Engagement and the Office of the Executive Vice President and Provost.
"Jennifer is highly deserving of the award," says Department of Educational Psychology chair, Geoffrey Maruyama. "She has worked over the past decade in Minneapolis Public Schools, first in North Minneapolis, then with Anishinabe Academy, and recently, she added tele-health research to connect with rural communities," says Maruyama. "These and other projects reflect her deep commitment to engaged research and to doing work that makes a difference in people's lives."
Please join us in congratulating Professor McComas on this tremendous accomplishment!