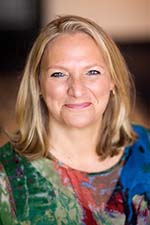 Jennifer McComas, associate chair and professor in the Department of Educational Psychology and Rodney S. Wallace Professor for the Advancement of Teaching and Learning, was invited to present at this year's Berkshire Association for Behavior Analysis (BABAT) Conference on October 13.
McComas will present research she conducted with Department of Educational Psychology Ph.D. student Brittany Pennington and alumni Jessica Simacek and Adele Dimian on "Functional Communication Training for Individuals with Neurodevelopmental Disabilities: Breaking Down Geographic Barriers with Videoconferencing Technology."
McComas' research is primarily focused on the influence of behavioral mechanisms and social context on severe problem behavior and academic difficulties and the acquisition and persistence of pro-social behavior. She is head of the special education emotional and behavioral disorders licensure and M.Ed. and is launching a new M.A. in special education with an emphasis in applied behavior analysis (A.B.A.) now open for applications for fall 2018.
The Berkshire Association for Behavior Analysis (BABAT) Conference has been hosted at UMass (Amherst) every year for 30 years. The conference brings together professionals, teachers, students, and persons interested in the areas of behavior analysis, autism, developmental disabilities, ethics, behavioral medicine, staff development, and more. BABAT is an affiliated chapter of the Association for Behavior Analysis International and of the Association of Professional Behavior Analysts serve as a resource for behavior analysts and those interested in behavior analysis in the northeast region.