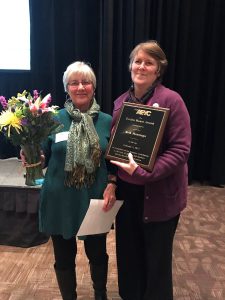 Beth Menninga, project coordinator at the Center for Early Education and Development, recently received the Evelyn House Award from the Minnesota Association for the Education of Young Children (MnAEYC).
MnAEYC is a professional association devoted to representing early child care and youth programs across Minnesota. The award honors a current or former MnAEYC member who has made a significant contribution to the lives of young children in Minnesota and to the organization.
Menninga has worked in early childhood education for more than 30 years. In the 1990s, she was statewide coordinator of the Minnesota Infant-Toddler Training Initiative, which increased the quality of infant-toddler care by providing trainers with a high-quality curriculum. Menninga also has created programs, including Words Work! and Numbers Work!, and has co-authored the book, The Thinking Teacher: A Framework for Intentional Teaching in the Early Childhood Classroom (Griffin House, 2016).
"Beth is a longtime member of MnAEYC and has contributed much wisdom to MnAEYC and to the field as a past member of the board," MnAEYC said. "Most importantly, she sees her work with young children, families and early childhood educators as a commitment to social justice, and has been a tireless advocate, spreading her influence and advancing the field across the state."
Click here to learn more about Menninga's work and the award.