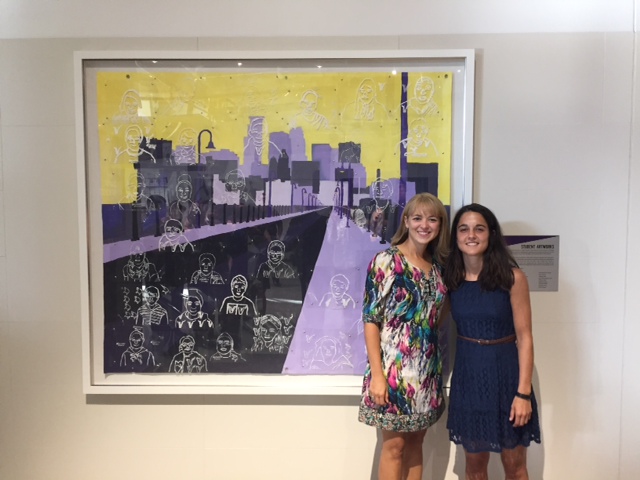 Andrea Greamba, who graduated in 2014 with an M.Ed. in Arts in Education, was part of the opening celebration at the new U.S. Bank Stadium featuring artwork from Minnesota natives. Greamba co-lead an art project as a student-teacher with Jenna Hubert of Waite Park Community School in Minneapolis. The project the students created was chosen as part of the permanent collection for the new stadium out of over 1,100 entries.
"I have always been impressed with the quality of art student-teachers that I receive from the U," says Visual Specialist Hubert. "I tell everyone I know, that I will only take them if they are from the U of M." Hubert has been working with the Department of Curriculum & Instruction's Teacher Education program for several years and has had 15 students in the M.Ed. program teach in her classroom.
The co-teaching model is a unique aspect of the graduate teaching program that offers hands-on teaching and classroom experience designed to prepare graduates to hit the ground running once they receive their teaching license. Teacher candidates are paired with experienced, practicing teachers in the Twin Cities metro where they can put their coursework into action.
Well prepared by her classroom experience at Waite Elementary, Greamba has since joined Sky Oaks Elementary in Burnsville as an art teacher.
To learn more about the M.Ed.—Initial Licensure program in Arts in Education or other teacher licensure programs visit the Curriculum & Instruction department website. The priority deadline to apply for 2017 is December 15, 2016.