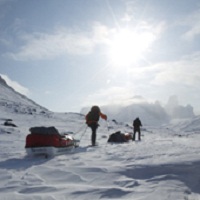 People around the world are captivated by a good adventure story. Adventure draws us into great literature and movies, but can it draw us into an educational lesson? Can it inspire us to act? Associate Professor Aaron Doering and researcher Jeni Henrickson sought answers to these and other questions in "Teaching Sustainability through Adventure," recently published in the Journal of Sustainability Education.
In this study, Doering and Henrickson provide a brief history of the use of adventure in education, along with an overview of two models: adventure education and adventure learning. They then investigate how students experience adventure when participating in an adventure learning program and what role teachers believe adventure plays in teaching and learning. They conclude with a discussion about how this research supports a new model, user-driven adventure learning, that involves learners completing and sharing their own inquiry-based adventure learning projects online. This is now possible through a unique new online learning environment called WeExplore.
In order to answer the specific study questions, Doering and Henrickson gathered data from teachers and students who participated in one of the numerous Adventuring Learning projects delivered over the past decade throughout the world. The Adventure Learning team in this instance was a mix of explorers, scientists, and educators who traveled into different regions of the Arctic, visiting remote communities and schools, interviewing local residents, participating in cultural events, and collecting both scientific and cultural data.
The expedition team posted weekly updates online, including photos, videos, maps, and interactive graphics, all of which were synched with a previously designed, comprehensive curriculum provided to teachers prior to the expedition start. The online learning environment included multiple opportunities for classrooms to interact with the team, a variety of field experts worldwide, and each other. In addition, classrooms could share their own projects and data related to the expedition within this online environment.
Here are some of the results from their analysis:
90% of the students interviewed noted that the adventure motivated them to learn.
Over 70% of the students noted that once they learned about the adventure, they wanted to follow along until the adventure was completed. Students commented that normally they would engage in a learning experience for the minimal amount of time to complete the activity. When adventure was part of the learning experience, they returned to the learning environment not only during class, but also during study halls, at home, and on mobile devices.
Over 50% of the students noted that the learning experience was as if they were reading a book. One student said, "Whether it was the dogs or the Inuit or the team's crazy experiences, I wanted to be part of the entire adventure. I think my parents were wondering why I was always on the computer."
Students gained an understanding of the world beyond their local community. Students commented that they felt they had a better understanding for remote locations and cultures.
All six of the teachers interviewed commented that they were motivated to be part of the learning community because they, too, wanted to follow along and be part of the adventure. From comments about the daily updates to how the adventure connected to the curriculum, the teachers noted the idea of adventure was what was needed in the classroom and beyond.
Doering commented, "This study is a reflection of the many studies that have come out of the adventure learning programs over the past decade – both students and teachers alike are both motivated and inspired to be part of the adventure and narrative as they utilize the curriculum within their schools. I'm excited to move to the next level of Adventure Learning, where students are developing their own adventure learning projects and sharing them with a worldwide audience, which is now possible at http://we-explore.com."