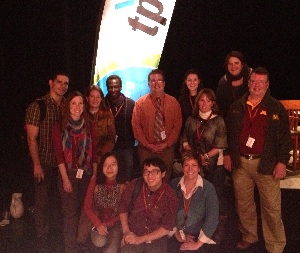 On Nov. 21, the Learning Technologies Media Lab (LTML) and Twin Cities Public Television (tpt) co-hosted a discussion around tpt's program Is School Enough?, which is the second in a series of programs about youth, digital media, and education. Is School Enough? focuses on how project-based learning and digital tools can help inform and transform education.
Over 100 educators attended the event, including young people representing community-based organizations from across the Twin Cities. Stephen Brown, the producer of Is School Enough?, hosted and moderated the national panel, and Cassie Scharber, LTML co-director, moderated the local panel.
Community conversations with attendees followed the panel discussions, with LT and Literacy graduate students and staff from the Department of Curriculum and Instruction assisting in backchannel conversations as well as table talk about technology-infused engaged learning.
The event was filmed for inclusion in an event toolkit that will be shared online as a complement to the program. The toolkit can be used by other PBS stations, community groups, schools, etc., to host similar conversations around the county. Educational and additional resources will also be included in the toolkit.
The full episode of Is School Enough?: Engaged Learning in the 21st Century Classroom and Beyond can be viewed online at TPT's website. Supplemental video clips and resources are available through Edutopia .
Please visit the Learning Technologies Media Lab and or the Learning Technologies Ph.D. program page to learn more.