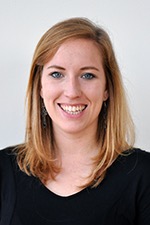 Last spring, Madeleine Orr, School of Kinesiology Ph.D. student, won the College of Education and Human Development's 3-Minute Thesis Competition (3MT) with her presentation, "The Rhetoric vs. the Reality of Sport Event Legacies." On December 1 she will take the podium again as the University of Minnesota Graduate School hosts the U of M's 3MT preliminary-round winners in a second competition. Orr will present along with Ruben D'sa from the College of Science and Engineering, Irene Bueno Padilla from the College of Veterinary Medicine, and Amritha Yellamilli from the Medical School.
Originally established by the University of Queensland in 2008, 3MT challenges research students to communicate the significance of their projects to a general audience in just three minutes, with the aid of a single, static slide.
Faculty, staff and students are encouraged to attend and support the presenters. The winner will represent the University of Minnesota at the Midwestern Association of Graduate Schools (MAGS) 3MT competition. In addition, participants will be invited to present their research at the upcoming Board of Regents meeting.
Orr is in the Sport Management emphasis and is advised by Yuhei Inoue, Ph.D.
Presentations are from 9-10 a.m. in 402 Walter Library. Awards and reception follow. Register to attend here.