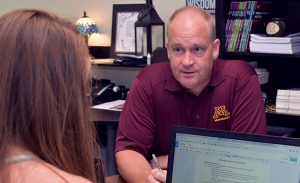 Family Social Science Associate Professor Tai Mendenhall's project to help first responders, called "Preventing Compassion Fatigue in Disaster-Responders: Advancing and Evaluating the Effectiveness of a Mobile Self Care App," has been selected for MN-Reach funding.
The University of Minnesota launched MN-REACH in 2015 to help researchers with new health-related discoveries navigate the complex path(s) from laboratory to market. MN-REACH is also one of three sites in the National Institutes of Health's (NIH) Research Evaluation and Commercialization Hubs.
Mendenhall is principal investigator (PI) on a team that created a self-care app for trauma-responders, the UMN Responder Self-Care App. In 2012, providers and researchers from the University of Minnesota's School of Public Health, Academic Health Center (Office of Emergency Preparedness), and Department of Family Social Science collaborated with colleagues at the Minnesota Department of Health (MDH) to develop the innovative self-care app for emergency responders in-the-field.  They pilot-tested an early version of the app with volunteer members of the UMN's Medical Reserve Corps (Behavioral-, Biomedical-, Veterinary-, and other teams) and MDH.
"These volunteers assisted us with understanding their use-cases, so that we can refine and revise this early version across both content and organization," said Mendenhall, who earned his Ph.D. in Family Social Science at the U of M in 2003. "We are now working toward widespread use and rigorous (randomized) empirical testing.  This is very timely and important work!"
Mendenhall's co-investigators include Andrew Morrow, in the U of M's Office for Technology Commercialization, and two professionals from the MDH's Center for Emergency Preparedness and Response: Nancy Carlson, a doctoral student who also works as a behavioral health and community resilience program coordinator, and Tom Garcia, a medical countermeasures planner.
The interactive smartphone app (available for iOS and Android) engages responders in a variety of ways before, during, and after deployments. The personally-customizable tool serves to promote and aid responders' attention to their own physical, emotional, and social well-being.
High stress – high risk 
Disaster-responders are already a high-risk group for compassion fatigue and – paired with the high-risk nature of fieldwork, itself – they are also at high-risk to become impaired. This puts both providers and the families they serve at risk. A 2016 Survey conducted by the National EMS Management Association (NEMA) described in detail the current needs of the responder community, including a call to action: "There is a significant mental health and wellness problem among the EMS workforce in the United States. Insufficient data exists to fully describe the extent and impact of this problem across the 800,000+ professionals that serve around the clock each day."
Currently organizations address compassion fatigue during after-action processing and/or debriefing sequences, which do not sufficiently address the personal health and well-being of responders. This gap is partly connected to the cultures of medical education, law-enforcement, and emergency services institutions (e.g., rigid hierarchies between classes and specializations, long working hours, and an ethos that does not support or encourage asking for help or appearing vulnerable).
The risks associated with compassion fatigue have personal consequences for emergency responders, including physical and mental illnesses, relationship stress, and professional consequences for the individuals and families that disaster response personnel serve (ranging from missing important cues, to ineffective teamwork and/or straightforward medical errors).
"The opportunity to use the UMN Responder Self-Care App in real-time – privately or in coordination with assigned team-members – will help responders with self-care during times when doing so is most needed, while also capturing much needed data to support long-term research so crucial in this field," said Mendenhall.
Early development of the UMN Responder Self-Care App was supported by University of Minnesota: Simulations, Exercises, and Effective Education (U-SEE) funding to investigate the effectiveness of public health preparedness training methods with the goal of developing training models that build system capacity.