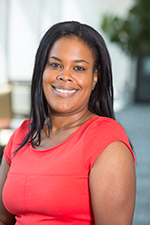 The U of M's Institute on the Environment (IonE) is hosting a 2017 Seminar Series, "Frontiers in the Environment." The series tackles environmental issues in ways that bring people together, showcase new knowledge, and challenge assumptions and practices.
Tiffany Richardson, Ph.D., lecturer in the School of Kinesiology and IonE Educator, will be a panel member this Wednesday, April 5, 12:00-12:45 p.m., to discuss "Breaking Boundaries in Sustainability Education." She'll be appearing with four other presenters from the U of M to discuss how to tackle obstacles of living sustainably by pushing traditional boundaries and reaching audiences not usually associated with sustainability. Richardson has been using professional sports to promote student learning, behavior change, and fan engagement via Green Teams, composed of students who actively promote a sustainability message at major league sporting events.
Attend the seminar in person, LES R-380, 1954 Buford Ave., St. Paul, or join the YouTube Live here and the Twitter conversation with #Frontiers and @UMNIonE.
On Thursday, April 6, individuals who wish to meet with Richardson and fellow panelists to discuss sustainability ideas in depth will attend the Affiliates April Salon Breakfast on the St. Paul campus.