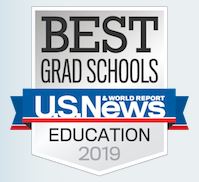 The University of Minnesota College of Education and Human Development (CEHD) continues to climb in the latest U.S. News & World Report graduate school rankings, breaking the top 20 this year with a ranking of 19, a move up from a ranking of 21st last year.
CEHD was also recently recognized as the top public school of education in the 2017 Academic Ranking of World Universities.
For the U.S. News & World Report rankings, 385 schools that grant doctoral degrees were surveyed. Schools were rated on 10 measures including peer assessment, educational professionals' assessment, student selectivity, faculty resources, and research activity.
"We are pleased to continue to rise in the rankings, said CEHD Dean Jean K. Quam. "It's validation for our work moving forward in educational equity, teaching and learning innovations, and children's mental health and development.
CEHD is a world leader in developing programs with a positive impact on child development, teaching, and learning. CEHD laboratory preschool, for example, bases its instruction on the idea that children are the agents of their own learning, encouraging hands-on, child-directed experiences. CEHD researchers bring real-world data collection to the classroom to help teachers in Minnesota and beyond. We are also developing new programs and technology, such as Check & Connect, to help educators improve student outcomes and keep at-risk kids on track to graduation.
For more information about the college, visit www.cehd.umn.edu/, where you can also find information about our top-rated master's and doctoral programs.
The mission of the University of Minnesota College of Education and Human Development is to contribute to a just and sustainable future through engagement with the local and global communities to enhance human learning and development at all stages of the life span.