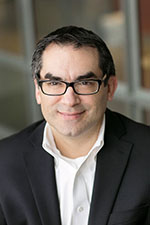 Michael Rodriguez, Campbell Leadership Chair in Education and Human Development and professor in the Department of Educational Psychology's quantitative methods in education program, was recently appointed chair of the Department of Defense's Advisory Committee for Military Personnel Testing. Rodriguez has been a member of the committee since 2012.
The Advisory Committee for Military Personnel Testing exists within the Office of the Under Secretary for Personnel and Readiness. The committee's duties vary over time, but the primary focus is on the design, development, and validation research of the Armed Services Vocational Aptitude Battery and related tests, including non-cognitive assessments addressing readiness for military life.
According to Rodriguez, "These assessments serve important roles in the identification, selection, and placement of individuals interested in serving in any of the six branches of the military or seeking military careers."
In addition to its work developing and evaluating tests for the armed services, the committee reviews the efforts of the ASVAB Career Exploration Program used by many high schools across the nation. The program provides free access to many resources for students, parents, and educators—including the aptitude test, interest assessment, and career exploration tools.