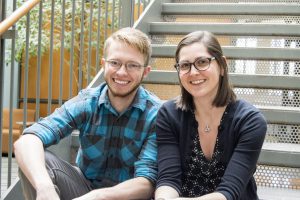 Aria Fiat and Jordan Thayer, Ph.D. students in the Department of Educational Psychology's school psychology program, were recently elected president and student interest liason, respectively, of the American Psychological Association (APA) Division 16: School Psychology's Student Affiliates in School Psychology (SASP) Association's Executive Board.
A second year Ph.D. student in school psychology, Aria Fiat received her B.S. in Education & Social Policy from Northwestern University, where she co-founded and co-lead Supplies for Dreams, a non-profit that provides educational enrichment to economically disadvantaged students in Chicago. Prior to graduate school, she worked as a research coordinator studying risk and resilience in homeless and highly mobile children, and spent a year teaching English in France through the Fulbright Scholars program. Fiat's research interests include: school mental health, social-emotional learning, positive psychological interventions, school climate, and promoting teacher resilience.
A third year Ph.D. student in school psychology and co-president of the school psychology student association (SPSA), Jordan Thayer earned his B.A. from Black Hills State University in South Dakota where he majored in psychology with an emphasis in industrial/organizational and minor in music. Thayer spent two years working, teaching, and studying education policy before deciding to turn his attention to helping youth in schools. His research interests include: improving behavior problems, particularly those resulting from a lack of engagement and motivation; understanding motivation; low-cost intervention development and implementation, particularly for students with comorbid academic and behavior problems; administrators' roles in implementation; policy advocacy; and international school psychology.
SASP is currently the only student-led organization within the discipline of school psychology, representing hundreds of graduate students nation-wide. The organization is committed to upholding general standards set by APA, including promotion and maintenance of highly effective training programs, implementation of evidence-based academic and mental health health practices in schools, and adhering to ethical guidelines and expectations for culturally-competent practice.