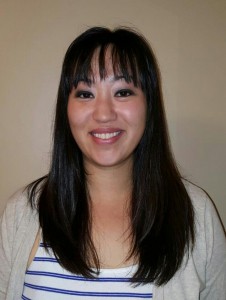 When she made a last-minute decision to abandon a scholarship from a sociology Ph.D. program and enroll instead in the University of Minnesota's master's of social work (M.S.W.) program, Katy Armendariz had no idea that would be her first step toward fulfilling a lifelong dream of serving children and families.
Katy is an international adoptee and former foster child who knows the child welfare system from personal experience. She received her M.S.W. from the University of Minnesota in 2009. In 2013, she started MN CarePartner, a mental health agency to bring psychotherapy services into the homes of people who could not make it to a clinic due to physical, mental, financial or transportation barriers.
The agency started out small, with just two part-time therapists. By August of 2015, it had six therapists and a certificate from the Minnesota Department of Human Services to provide Children's Therapeutic Services and Supports (CTSS). CTSS is an in-home rehabilitative service that teaches children and families the necessary skills to manage the symptoms of a child's mental health condition and bring the child back to a normal developmental trajectory.
Then, last spring, Katy and Laura Skoglund, owner of Families in Transition Services (FiTS), had a conversation over coffee. Laura has a degree in social work and paralegal studies, with a strong advocacy background in domestic violence and sexual assault. When she took over Families in Transition in January of 2012, she found a niche serving families through supervised visitation and parenting skills.
Laura, who grew up in a home where domestic violence and chemical dependency were prevalent, saw FiTS as an opportunity to help families in similar situations. FiTS provides supervised visitation for child protection families requiring oversight throughout the process of permanency and reunification, as well as family law cases. Laura saw that children's acting-out behaviors often increased before and/or after visits with their parents, and she saw a need for in-home skills and therapy to smooth the transitions. Katy wanted the services her agency provided to help disadvantaged families who have a hard time parenting due to psychosocial barriers, such as the homelessness and mental illness that prevented her own birth mother from being able to parent.
It was a perfect match and happened to coincide with the release of 93 recommendations by the Governor's Task Force on the Protection of Children, which had examined the Minnesota child welfare system. It concluded that the system could not improve without additional resources, training and workforce. Katy and Laura quickly realized that their partnership could help child welfare providers meet several of the task force recommendations about providing more seamless services to children and families.
Together, FiTS and MN CarePartner offers supervised visitation in the home, CTSS services and in-home psychotherapy. In order to reduce the number of providers coming into a family's home, the two agencies work together to hire people who can provide more than one kind of service. The person supervising the visit is often the same person who teaches CTSS and parenting skills between visits. The CTSS skills worker is supervised by the in-home therapist, ensuring complementary treatment plans and a quality coordinated-care team for each family.
FiTS and MN CarePartner reached out to several child protection units in several counties, and had 16 partnerships set up in 10 counties by the end of August. The response to the partnership has been extremely positive, and child protection workers have reported that they feel at ease knowing that a committed team is in the home working for the empowerment and self-determination of children and families. Additionally, MN CarePartner and FiTS actively recruit staff of color, as well as bilingual staff, to address the cultural disparities that have made it difficult for far too many families to connect with their service providers and have a fair shot at reunification.
In November, Katy will receive an Outstanding Service Award from the Minnesota Association for Children's Mental Health for showing extraordinary leadership in the field.