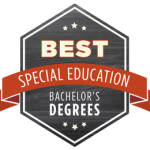 The special education bachelor of science degree and academic and behavioral strategist (A.B.S.) licensure program in the Department of Educational Psychology within the College of Education and Human Development has been recognized as the number three special education undergraduate program in the nation.
The results are produced by Best Education Degrees, whose mission is to provide information on the best schools specializing in educational degrees and to enable, empower, and enhance the careers of education professionals and education students alike.
According to Best Education Programs, special education programs were ranked based on their reputation, tuition, academic support per student, and average early salary ten years after graduation. Scores were determined by examining specific data points from organizations such as the National Center for Education Statistics, U.S. News and World Report, and the National Council on Teacher Quality (NCTQ). Payscale was used to determine average salaries. Best Education Degrees collected the data and assigned a total score for each school based on the criteria.
The special education bachelor of science degree and A.B.S. licensure program was launched in fall 2014. The program is unique in that graduates earn their degree and teaching license in just four years and have the opportunity to study alongside leaders in the field of special education.
Scholarships are available for undergraduates interested in special education.
Incoming first-year special education students are automatically considered for the Campbell Scholarship for Education. Visit the Office of Admissions scholarships page for more information on this and additional CEHD scholarships available to incoming first-year students.
Each year through 2018-19, the Schulze Future Teacher Scholars Program will award scholarships of up to $10,000 to eligible undergraduate students, including students from the special education program.
See the full list of rankings.
Learn more about the bachelor's degree in special education.