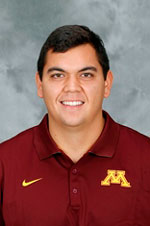 A 2016 graduate of the School of Kinesiology has been nominated for a prestigious award recognizing athletic and academic achievement and community service.
Ryan Santoso, a Gopher punter who received his B.S. in Sport Management in Fall, 2016, has been nominated for the 2017 Wuerffel Trophy, awarded to the FBS (Football Bowl Subdivision) player that best combines exemplary community service with athletic and academic achievement.
During his time at the U, Santoso has volunteered for numerous organizations– Children's Hospital, the Boys and Girls Club, Luxton Learning Center, and with various sports camps– all while performing exceptionally in the classroom and on the field. He continues his academic and football career this year as a master's student in the Humphrey School of Public Affairs studying nonprofit management.
Santoso's story was featured this week in the U of M's online News & Events section.