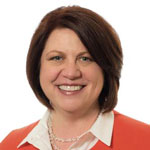 Amelia Franck Meyer (M.S.W. '01), CEO of Anu Family Services, was named an Ashoka Fellow, joining a network of over 3,000 of the world's leading social entrepreneurs.
Ashoka Fellows are chosen for having innovative solutions to social problems and the potential to change patterns across society. They demonstrate unrivaled commitment to bold new ideas and prove that compassion, creativity, and collaboration are tremendous forces for change.
Franck Meyer has been CEO of Anu Family Services since 2001 and has built an award winning organization that is achieving nationally leading outcomes in finding permanence for children in out-of-home care.  Last year, she shared her message and expertise with system leaders, legislators, front line staff, educators, and students across Minnesota, Wisconsin and 15 other states. Being an Ashoka Fellow will give her an opportunity to build on this growing momentum and desire for much needed systems change across the country.
Anu Family Services has offices in St, Paul Minnesota and Hudson, Madison and Eau Claire, Wisconsin. Learn more about  Anu on their website.
Ashoka is the largest network of social entrepreneurs worldwide, with nearly 3,000 Ashoka Fellows in 70 countries putting their system changing ideas into practice on a global scale. Founded by Bill Drayton in 1980, Ashoka has provided start-up financing, professional support services, and connections to a global network across the business and social sectors, and a platform for people dedicated to changing the world. For more information, see the Ashoka website.