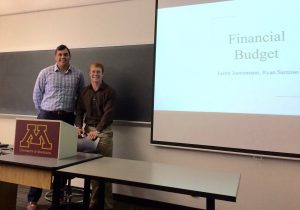 Students in a Sport Management course in the School of Kinesiology had a real-world opportunity to help a K-12 school in Forest Lake consider ways to develop and expand an athletic program for their students in grades 6-12.
The students in SMGT 3881W, a capstone course for undergraduates taught by Lisa Kihl, Ph.D., associate professor in the School, collaborated with Lakes International Language Academy (LILA) to come up with best practices for an athletics department operations manual that covered areas such as policies, recruiting and training coaches, facilities, and marketing. The students worked in groups and presented their plans to school director  Shannon Peterson and athletics and activities director Jenni Muras.
"This is the students' opportunity to demonstrate that they are prepared academically and professionally as graduates to contribute meaningful work for real-world sports concerns," said Kihl. "I set the expectations high. And every time, these students amaze me."
"We were thrilled to participate in this capstone project," Muras said. "With Dr. Kihl's expert guidance, the University students provided useful information that reflects our school's mission, values, and International Baccalaureate focus. We're looking forward to continuing the relationship with the U."
LILA is a public K-12 Mandarin and Spanish language immersion school.