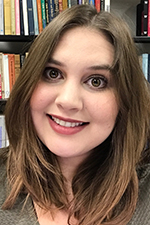 Sarah Suárez, a fourth year doctoral student in the Institute of Child Development, has been awarded the National Academy of Education/Spencer Dissertation Fellowship for the 2017 academic year.
The $27,500 fellowship supports individuals whose research may advance the field of education. Suárez is one of 35 researchers to receive the fellowship this year out of more than 400 applicants.
Suárez's dissertation focuses on how children develop an understanding of knowledge and how it relates to critical thinking, social learning, and self-control.