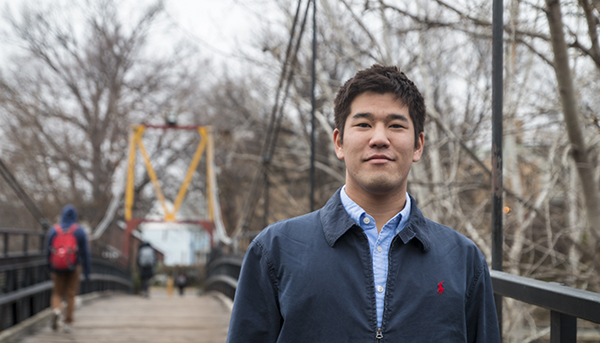 Psychology major/TESL minor Aaron Nakamura wants to use his language teaching skills and psychology degree to help children learning English as a second language who need extra support.
What drove you to enroll in the Teaching English as a Second Language (TESL) minor program?
My goal is to help children in third world countries who are in need of both psychological and educational support. I enrolled in the TESL minor program to equip myself with the necessary skill set to support those children through language education.
I came here from Japan five years ago and it was every hard to learn the language and get acclimated to a new country. My friends helped me a lot, and I would like to pass on that help to children struggling with both language skills and psychological trauma.
How has your experience with the faculty been?
The faculty members in this program are very knowledgeable and supportive. While learning how to teach English, I had to improve my language skills because English is my second language. The faculty were always there to help guide me through my struggles as a non-native English speaker.
Which part of the program did you find the most valuable?
All of the requirement courses for this program are very well-structured. I gained fundamental ideas and knowledge about linguistics and had the opportunity to train as an educator through a service-learning practicum. I also learned actual techniques and knowledge about teaching ESL that allowed me to strengthen my teaching abilities. Plus, I expanded my intercultural understanding which allowed me to gain insights about the amount of resources that are available in different parts of the world. Our discussions made me want to be an individual that is able to make a difference in our world.
Any other thoughts you want to share about your experience?
I have enjoyed meeting and sharing experiences with people in the TESL minor program who have multicultural backgrounds. People in this program understand and appreciate cultural differences, which allowed me to fit into the environment and feel respected as an individual. I made valuable friendships with my classmates that I will cherish throughout my lifetime.
Find out more about the TESL minor and other programs in second language education in the Department of Curriculum and Instruction.