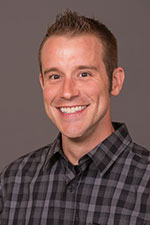 Ross Thompson, M.Ed., a teaching specialist at the Institute of Child Development's Shirley G. Moore Lab School, has received the 2017 Kate Davidson Tanner Award from the Minnesota Association for the Education of Young Children (MnAEYC).
MnAEYC is a professional association devoted to representing early child care and youth programs across Minnesota. The annual award recognizes an early childhood professional who demonstrates excellence in his or her profession.
In 2005, Thompson started his career at the lab school, where he completed his student teaching experience and held various roles for the following two years. He has been a full-time lead teacher for the school's multi-age morning preschool class since 2007.