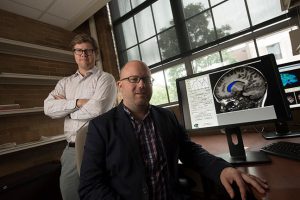 CEHD researchers Jason Wolff and Jed Elison are detecting objective differences in the brains of children who have autism spectrum disorders as early as six months old. And their work is contributing to a national effort to understand this complex array of developmental disorders.
"We know from intervention studies that the earlier you intervene, the better the outcome," says Wolff in a U of M Medical Bulletin feature story.
Read more about the work of several U of M researchers who bring a spectrum of expertise to their autism research, including prevalence studies led by Amy Hewitt, director of CEHD's Research and Training Center on Community Living in the Institute on Community Integration.