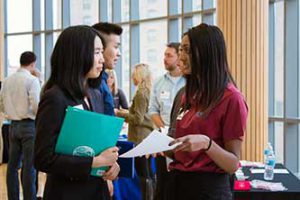 As the CEHD class of 2017 plans for their next steps after graduation, CEHD Career Services is there to support them with several career events planned during spring term.
In February, undergraduate and graduate students have the opportunity for top Twin Cities employers to review their resume. The Health, Sport, and Recreation Career Fair brings several employers to campus who are interested in hiring CEHD students. Students may also hone their interview skills in practice interviews with employers. This is great preparation for the U of M Job and Internship Fair at the end of February.
In March, employers from a variety of industries will be on campus to talk about careers related to youth studies and family social science majors.
In April, the annual MN Education Job Fair is the chance for teacher education students to meet and interview with districts across the state.