By Carrie DePasquale
As we have reported to you in previous newsletters, we found that some of the children adopted internationally in the Transition into the Family had "underactive" stress-regulatory system functioning for their first few years after adoption. This was based on activity of the stress-response system that produces cortisol. We also reported in previous newsletters that those children with more "hypoactive" stress-regulation were also more likely to have difficulty with peers when they were in kindergarten according to their teachers. Here we are following up this finding when the children are 8-11 years old. We invite each child to our research lab and pair them with a child of the same age and sex who was not in the Transition into the Family Study. We then have the children play games together to examine their competence with new peers.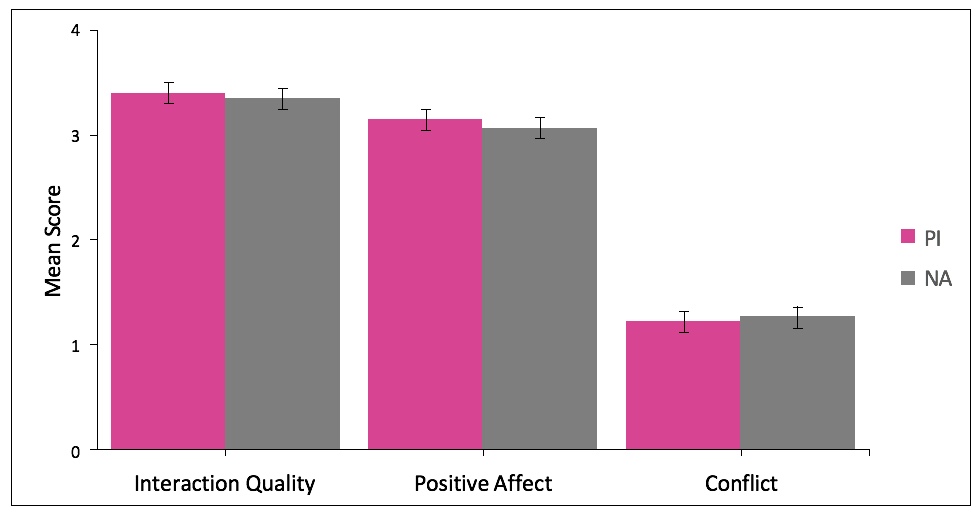 Thirty-two pairs of children have participated in the study so far. Figure 5 shows their average scores on a scale from 1-5 (higher scores representing higher interaction quality, more positive affect, and more conflict, respectively). We were pleased to discover that children adopted internationally (the "PI" group) interacted just as well, showed just as much positive affect, and had just as little conflict as their non-adopted peers (the "NA" group). Additionally, underactive stress-regulation in the first few years after adoption did not predict any differences in peer competence in this study. However, this may be due to their underlying cortisol regulation.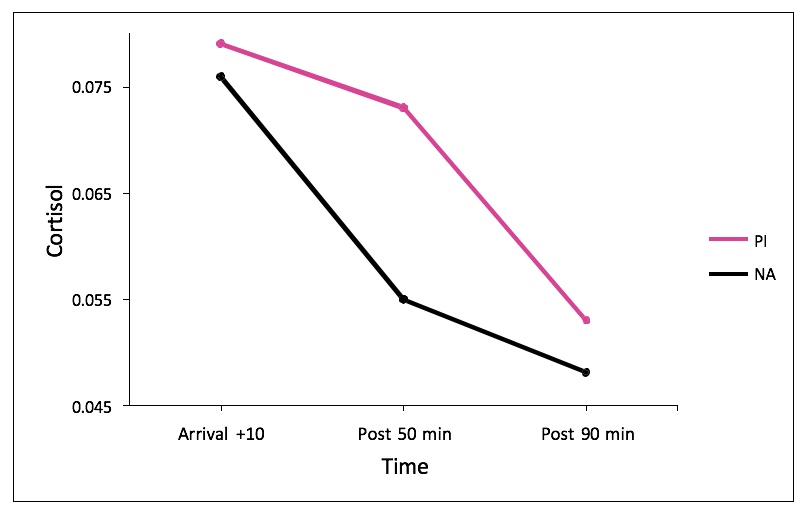 During this same interaction, we collected three saliva samples to measure cortisol over the course of the interaction. Figure 6 shows that children adopted internationally have almost identical patterns of cortisol compared to their non-adopted peers, however in the middle of the session they show slightly higher levels. One possible explanation is that, although internationally adopted children show similar behaviors during social interactions, it takes more of their hormonal "resources" to achieve this.
We feel it is very important to gather more participants in order to ensure that this pattern is the true pattern, so please contact us at 732-864-7953 or depas010@umn.edu if you are interested in being a part of the study!