Family income is the most accurate predictor of a student's college attendance, said University of Pittsburgh professor H. Richard Milner in a campus lecture last week. Critical of the way the term "achievement gap" puts the burden of educational success on students alone, Milner called attention to the innumerable external factors that contribute to a student's output in school.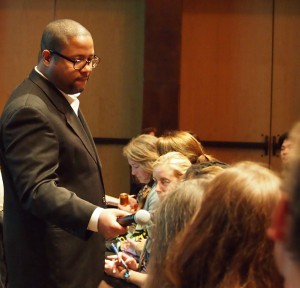 "It's not an achievement gap," he said, but many things: An effective leadership gap. An adequate nutrition gap. A family income gap. An access-to-health-care gap. A parental education gap.
In order to work for positive change, Milner said, educators need to look beyond test scores, respond compassionately to students' neighborhood conditions, and create a space of empathy and understanding in the classroom.
Milner was on campus as part of the Emma Birkmaier Speaker Series sponsored by the Department of Curriculum and Instruction and the College of Education and Human Development (CEHD). An estimated 185 students and educators heard Milner speak at the McNamara Alumni Center on February 5.
Milner is the Helen Faison Endowed Chair of Urban Education and directs the Center for Urban Education at the University of Pittsburgh. His research focuses on urban education, teacher education, African American literature, and the sociology of education. His work primarily analyzes policies and methods that contribute to teacher success in urban settings.
He identified five major issues that can either divide or unite a school community: obsession with test scores, a narrow curriculum that eliminates the arts, socioeconomic status and poverty, school counseling and psychological services, and race.
After his lecture, Milner answered questions about diversity in education and how it affects student achievement.
Increasing racial diversity in teacher education
In addition to the public lecture, Milner led a workshop Thursday morning with area educational professionals about recruiting a more diverse pool of teachers to better fit local districts' needs.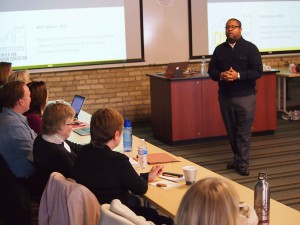 Milner described the history of and esteem for the teaching profession in the African American community. He also presented a theoretical approach for understanding the impact of hurtful interactions in school settings and what can be done to address them.
Shuji Asai, a licensure officer in CEHD's Office of Teacher Education, attended the workshop and concurred with Milner's case for teacher recruitment efforts.
"Recruitment efforts need to be tied to the needs of a particular community or schools in order for a partnership to work," said Asai. "And [we need to] start early, when our future licensure students are in a middle school or high school."
The Emma Birkmaier Critical Literacy and Urban Education Speaker Series is a program dedicated to bringing leading voices in education to the U to address the experiences of youth in urban schools and the power of literacy education.
In addition to the Department of Curriculum and Instruction, cosponsors of Milner's visit included CEHD's Department of Organizational Leadership, Policy, and Development, Department of Postsecondary Teaching and Learning, and associate dean for undergraduate, diversity, and international programs; and the University of Minnesota Campbell Leadership Chair in Education and Human Development.
—Ellen Fee; photos by Claire Rasmussen