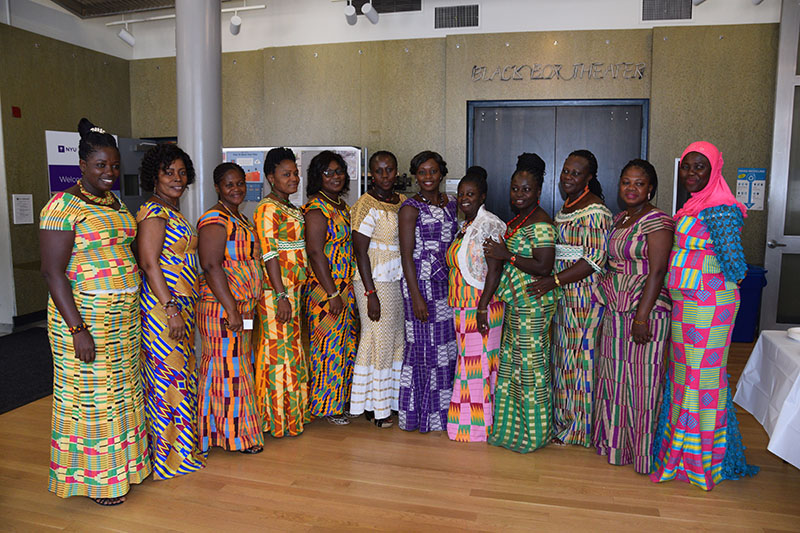 From May 29 to June 6, Rose Vukovic, director of undergraduate studies in the Department of Educational Psychology  and associate professor in the special education program at the University of Minnesota and Kristie Patten Koenig, associate professor and chair of Occupational Therapy at New York University (NYU)–Steinhardt—along with Sakina Aquah and Priscilla Yaaba Ackah from University of Education, Winneba—hosted a leadership institute for a group of female teachers from Ghana. The work is part of the Ghanaian Institute for the Future of Teaching and Education (GIFTED) which is supported by the larger Ghana Wins! project, a professional development program that aims to build capacity in women leaders in education.
This year's GIFTED cohort attended a week-long workshop in New York City to analyze the results of their leadership action projects to support educational outcomes in Ghanaian schools. They visited local schools and participated in "coffee talks" with NYU faculty on women and leadership. The educators also had the opportunity experience American culture by doing things like eating pizza, taking the subway, and visiting the Statue of Liberty.  The culmination of their training happened on June 2 when they sharing the resulted of their leadership action projects in an educational symposium at NYU –Steinhardt. Here are just a few examples of the work they are doing in Ghanaian schools.
Slimba, head teacher, Supporting Education for Muslim Girls: Slimba is engaging the community chief, the Imam, the Parent Teacher Association, parents and several local mosques to increase the enrollment of Muslim girls in her school.
Patience, primary school teacher, Market Day Attendance: Upper primary school students often miss school on market days to work at the market. To improve attendance, Patience is engaging these students through cultural dance and drama performances.
Serwaa, primary school teacher, Single Mothers Support Groups: Serwaa has created a social support network for single mothers in her school community. By organizing sessions that aim to build a supportive community for single mothers, she hopes to increase the school attendance of their children.
Read the GIFTED newsletter for more examples of leadership action projects.
Following the educational symposium, the University of Minnesota's College of Education and Human Development hosted a reception honoring the achievements of the group.
Future work
This summer, Kristen McMaster, coordinator and professor in the special education program at the University of Minnesota, will travel to Ghana with the group to help the GIFTED fellows work on peer assisted leadership strategies (PALS). According to the Institute for Learning Sciences, PALS is a peer-tutoring instructional program that supplements the primary reading curriculum by pairing students who work together on reading activities intended to improve reading accuracy, fluency, and comprehension.
About GIFTED
Focused on strengthening the leadership capacity and visibility of female educators as leaders within the Ghanaian public education system, GIFTED provides professional development, on-going support, and leadership training to 12 women educators per year. These GIFTED fellows participate in a year-long transformational leadership curriculum, where they develop and implement action projects that support educational outcomes in their schools. GIFTED was started in June 2013 and is a collaboration between NYU, the University of Minnesota , the University of Education Winneba, and Mujeres por Africa and is sponsored by Banco Santander.
Vukovic is co-principal investigator on the project which led by Kristie Patten Koenig, principal investigator from NYU.  Local partners are Sakina Aquah and Priscilla Yaaba Ackahat from the University of Education, Winneba.