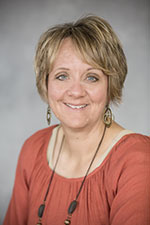 We're excited to welcome Michelle Marchant-Wood, Utah native and former associate professor in the special education program at Brigham Young University to Ed Psych! After moving to Minnesota, she began working as a research associate at the University of Minnesota for Center for Applied Research and Educational Improvement (CAREI). Michelle managed an evaluation project with the Anoka Hennepin school district which was under the direction of Dr. Kimberly Gibbons.
When the opportunity afforded itself to teach special education again, she couldn't pass it up.
"I always love interacting with college students. I love their excitement for being teachers. They're eager to try new things." Marchant-Wood says.
Currently, she teaches three educational psychology courses that keep her on her toes, (EPSY 5619: Students with Mild/Moderate Disabilities in Math, EPSY 5611: Research-Based Practices in Academic and Behavior Disabilities, and EPSY 5616: Behavior Analysis and Classroom Management).
"I've been impressed with the quality of students here. I taught at a private institution that is very difficult to get into (BYU has less than a 50% acceptance rate). I was interested in knowing what it was going to be like teaching at a state institution, but the quality of students here has been most impressive."
She continues, "I also have really enjoyed getting to know the faculty here. They're quality people and I have a lot to learn from them."
Marchant-Wood wants prospective students to realize the great need and ample opportunities available in the field of special education Students are able to get jobs and make a difference.
"The faculty here are known throughout the country for the exceptional research they conduct, which takes a lot of time and effort. Prospective students need to know they're going to have amazing opportunities here in Minnesota at this program."
Outside of work, Marchant-Wood explores the cultural opportunities in the Twin Cities. She and her husband frequent orchestra hall and enjoy shows at the Guthrie. She also likes to stay active, by biking, running, and going to the lakes.