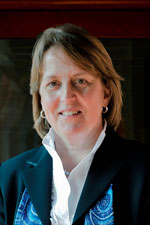 Diane Wiese-Bjornstal, Ph.D., professor and director of the Sports Medicine Psychology Lab (SMPL) in the School of Kinesiology, will present a paper July 13 at the International Society of Sport Psychology (ISSP) 14th World Congress Sevilla 2017, held July 10-14 in Seville, Spain.
The paper represents Wiese-Bjornstal's collaborative work with student authors from the U of M, including SMPL graduate students (Kristin Wood, Andrew White) and SMPL former undergraduate student (Amanda Wambach), as well as 2016 U of M visiting Fulbright scholar Professor Victor Rubio from the University of Autonoma, Madrid.
The paper being presented is:  Wiese-Bjornstal, D. M., Wood, K. N., White, A. C., Wambach, A. J., & Rubio, V. J. (accepted for 2017, July). Exploring religiosity and spirituality in coping with sport injuries. In V. J. Rubio (Chair), Coping, resilience and personal growth following a sport injury.