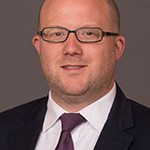 Jason Wolff, assistant professor in the special education program in the Department of Educational Psychology, was recently featured in an article by Simons Foundation Autism Research Initiative (SFARI). The article, "Thick bridge of nerves may signal autism in infancy," highlights Wolff's study published in Brain in May. His research findings suggest that the bundle of nerves that bridges the brain's two hemispheres is abnormally thick in infants later diagnosed with autism.
"I think it drives home to us how important it is to think about how much the brain changes throughout life," Wolff told SFARI.
Read the full article in SFARI.