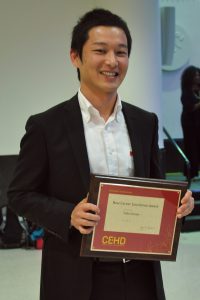 School of Kinesiology assistant professor Yuhei Inoue, Ph.D., was presented CEHD's New Career Excellence Award for 2017 at the college's annual Assembly and Recognition Ceremony held at the Great Hall in Coffman Union yesterday.
The New Career Excellence Award "recognizes a new CEHD professional who has demonstrated outstanding and innovative academic work and shows great promise in terms of future contributions to the college and the field."
Dr. Inoue teaches and does research in the sport management emphasis in the School of Kinesiology. He joined the faculty in 2014. His research explores the ways sport makes a positive impact on society and addresses the implications of strategic management issues related to sport organizations and corporate social responsibility initiatives.  For example, he conducted a study in Cambodia to  determine if sport participation that includes both able and disabled participants can create cooperative social relationships that enhance economic and social development. He and a master's advisee have also conducted research on how social identification through attending sporting events may help increase older adults' social connections and well-being.
Last fall, Dr. Inoue began working on a Temple University Sport Industry Research Center grant with several colleagues to explore how collegiate athletic departments in the U.S. are organized and operated and how the system could translate to Japan. Only a few Japanese universities have a unified athletics department. Generally their sports teams are privately managed rather than organized under the umbrella of an athletics department. Dr. Inoue believes that this study will help researchers understand collegiate athletics from a broader view, and he has been running case studies with the University of South Carolina, Old Dominion University and the University of Northern Colorado as part of the study.
Dr. Inoue also advises Madeleine Orr, Kinesiology doctoral student who won CEHD's Three-Minute Thesis competition last month and reprised her presentation at yesterday's award ceremony.
A contributor to Dr. Inoue's nomination says, "He exhibits high levels of productivity and quality in scholarship and teaching, and does work that is meaningful and relevant to the human development and societal impact aspects of CEHD. Beyond his academic talents and scholarly expertise, however, I perhaps even more importantly see him as a wonderful colleague who willingly carries his share of responsibility for service work, mentoring, and student advising, represents a positive and collegial presence, and betters our school and college environment."