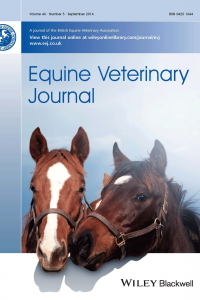 In an interdisciplinary collaboration with partners in veterinary medicine at the University of Minnesota and the Michigan State University, researchers in the Human Sensorimotor Control Laboratory examined horses with shivers disease.
An earlier study identified the previously unknown neuropathology of the disease – a degeneration of neurons in the cerebellum. Because the cerebellum is involved in coordinating the control of muscles during movement, the researchers wanted to find out how the loss of cerebellar function affects the muscle recruitment in these horses. Like humans, horses activate more muscle fibers if they want to run faster. However, these horses recruited more muscles and more muscle fibers than necessary, which led to a loss of movement coordination and problems in their balance.
The results of this study, "Abnormal locomotor muscle recruitment activity is present in horses with shivering and Purkinje cell distal axonopathy," are published in a paper that appears in Equine Veterinary Journal. Joshua Aman, Ph.D., a former postdoctoral researcher in the lab, is the first author of the paper. Other co-authors are current lab member Naveen Elangovan, Ph.D., and Jürgen Konczak, Ph.D., professor in the School of Kinesiology.