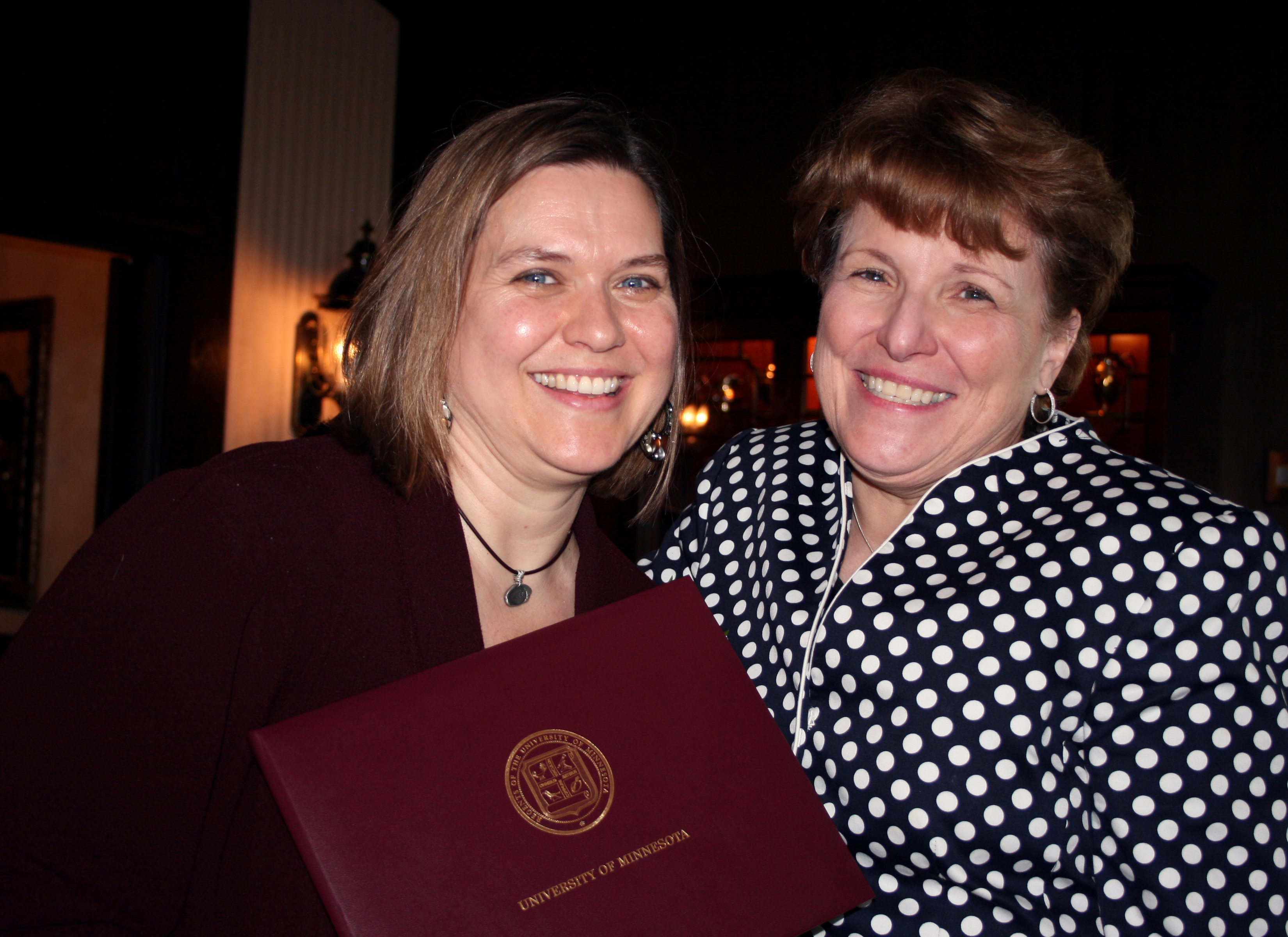 Heather Hessel and Kadie Ausherbauer, doctoral students in the Department of Family Social Science, won first place in the Doctoral Category of the American Association for Marriage and Family Therapy's 2017 Student Ethics Competition.
"Being grounded in ethics and knowledgeable about ethical practices is essential to credible research and professional practice," said Lynne Borden, head of the Department of Family Social Science at the University of Minnesota. "These two young professionals are positive role models for our community and leaders of the future."
Only in its second year, the competition is designed, according to AAMFT, to "foster an interest in ethical issues and enhance their ability to analyze and respond to the various ethics issues that they will undoubtedly encounter throughout their career."
The ethics competition has two categories: one for Master's and PDI students and one for Ph.D. students. Open to teams of two to three students at the same program level, the competition is unique because students do not know the exact case study on which they will be asked to respond until after they have registered. The "hypothetical scenario" is posted on the AAMFT's website and students have six weeks to research, analyze, and write an essay.
"Our essay required that we research and discuss ethical codes, legal statutes, and commentaries on ethical issues," said Hessel. "As is usually the case with ethics questions, there was quite a bit of "gray" area to debate between ourselves. We also selected and applied an established ethical decision-making model to the scenario, which helped us provide additional structure to our response."
A fourth-year doctoral student, Hessel is working on a dissertation that explores how both noncollege and college-going emerging adults are using communication technology with extended family members.
"I had a great time working on this project," said Kadie Ausherbauer. "It was interesting to sift through areas where best practices didn't correspond with specific ethical codes, so some things that initially seemed very problematic weren't necessarily violations of the code of ethics. We applied the ethical decision making model to find ways that the hypothetical therapist could have prevented or improved the situation at different junctures in the process."
Ausherbauer is a third year doctoral student whose research centers on development of self-regulation, early childhood trauma and micro-level behavioral analyses.
In addition to a cash prize, both Hessel and Ausherbauer were awarded complimentary registration, hotel accommodations and airfare to attend the AAMFT's annual conference in Atlanta in October. Their winning essay will also be published on the AAMFT's website and will be recognized in the organization's publications and other communication channels.