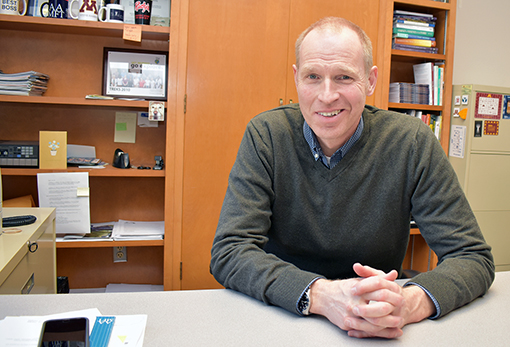 Family Social Science Professor Steven M. Harris assumed a new role as editor of the Journal of Marital and Family Therapy for a four year term.
Published by the American Association of Marriage and Family Therapy (AAMFT), the Journal of Marital and Family Therapy is dedicated to both reflect and foster the best scholarship in the MFP field  that makes a difference, moves our field forward, crosses borders, is sensitive to diversity and social justice, and is relevant to both researchers and clinicians.
Dr. Harris received his master's and doctoral degrees in marriage and family therapy from Syracuse University. Prior to Minnesota, he was an MFT faculty member at Texas Tech University for 13 years. He has been practicing as an MFT for over 27 years. His history with JMFT includes serving as the reviews editor from 2000-2005, and he has been on the Editorial Board since 2000. Dr. Harris is the author of over 65 peer-reviewed articles and book chapters, has written four books, and has contributed a variety of other publications to the field throughout his career. He also serves as the associate director of the Minnesota Couples on the Brink Project. He and his co-author, Dr. William J. Doherty, also a professor in the FSoS Department, released the first textbook on discernment counseling last year.
JMFT, published quarterly, is the flagship scholarly journal of AAMFT and the field of family therapy. The goal of the journal is to ensure the continued development of the science, theory, and practice of marriage and family therapy. JMFT disseminates relevant, current scholarship and research that moves the field forward.