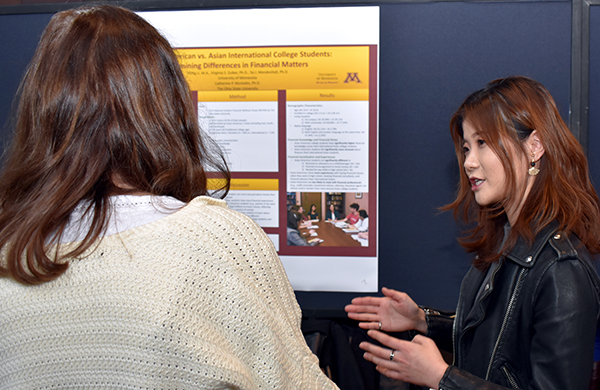 Five Family Social Science graduate student and faculty teams had research proposals accepted for CEHD Research Day. They will display posters and discuss their research projects at the event in the McNamara Alumni Center's Memorial Hall on Tuesday, March 26, 11:00 a.m. to 1:00 p.m. The teams are:
Alyssa Maples and Anne Williams-Wengerd, doctoral students, and Lindsey Weiler, assistant professor: "The Role of Service-Learning Experiences in Promoting Flourishing."


S. Okrey Anderson, doctoral student, and Jenifer McGuire, associate professor and extension specialist: "I Feel Like God Doesn't Like Me: Faith and Ambiguous Loss."


Yiting Li, doctoral student, Joyce Serido, associate professor and extension specialist, and Virginia Zuiker, associate professor: "Examining the Influence of Parental Financial Socialization on Young Adults in a Romantic Relationship."


Cheuk Hei (Bosco) Cheng, doctoral student, Abi Gewirtz, professor and co-director, Institute of Translational Research: "Depressive Symptoms Mediate Associations between Life Events."


Seonghee Hong, doctoral candidate, and Susan Walker, associate professor: "Parent Perceptions of Parental Goals: A Qualitative Study."
More about CEHD Research Day
Research Day begins at 10 a.m. with the 3MT competition. CEHD PhD students, who have won preliminary rounds, have three minutes to effectively explain their research project in language appropriate to a non-specialist audience.
In addition, Research Day awards will be given in the four categories aligning with CEHD's strategic priorities: Education Research and Educational Equity; Living Better, Living Longer; Autism and Developmental Disabilities; and Children's Mental Health and Welfare.
A buffet lunch is available. RSVP by March 19.