Drummer, Jake Anderson, found meaningful work teaching students with disabilities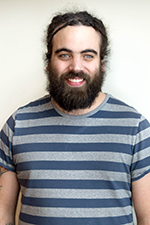 Jake Anderson always knew he wanted to play the drums for a living. He started his academic career by earning his bachelor's degree from McNally Smith College of Music in Saint Paul. After graduating, Anderson played in several bands in the evening and made sandwiches during the day at Erbert's and Gerbert's in downtown Saint Paul. He decided that if he was going to work a day job, "It needed to mean more to me than making sandwiches."
Anderson's next move was to call his sister, Kate, a social worker at North High School for Minneapolis Public Schools who got her master's in social work at the University of Minnesota. His sister suggested he try working in a group home. Anderson took her advice, eventually getting hired at Howry Residential Services as a Direct Support Professional in Maplewood.
From serving sandwiches to serving others
Anderson found a passion working with disabilities and began looking for more opportunities to do so. Once again, he contacted his sister and, through one of her connections, found a position as a para-educator at Transition Plus in the Minneapolis School District. Transition Plus provides services to help those with educational disabilities make the transition from high school to adult life.
Anderson worked as a para-educator for three years and decided to apply for the special education MEd and licensure program in the Department of Educational Psychology.
Having completed two semesters of the program, Anderson got a new job as a teacher in a developmental coordination disorder room at Transition Plus. He taught on a community expert license from January to June while enrolled as a full-time graduate student and was hired as a full-time teacher on a variance for next year. Anderson teaches 10 students, is learning as he goes, and has class two nights a week.
The beat goes on
All the while, he hasn't stopped drumming. Anderson currently is in three full-time bands and travels frequently during the summer to play in bars and venues across the country.
"My life is crazy, stressful, and amazing. I love it," Anderson says.