Claire Busse, a senior majoring in Family Social Science and Sociology, and a UMN Honors student, made the leap from learner to practitioner to researcher earlier this academic year for her FSOS honors thesis.
She developed a trauma-informed leadership training that incorporated her knowledge about trauma and how it impacts people's minds and bodies for peer leaders in the University of Minnesota's marching band.
She began thinking about a trauma-informed training for student leaders of the University of Minnesota Marching Band during her first year as a leader in the clarinet section in the fall of 2020. Busse says she learned about trauma-informed approaches in Professor Tai Mendenhall's class, "Traumatic Stress and Resilience in Vulnerable Families across the Lifespan."
The course focuses on stressful events and processes that place families at risk – from natural to human-created disasters to social disparities to medical crises. Central to taking a trauma-informed approach is the creation of physical and emotional safety and collaboration to educate individuals and give them an active role in healing.
"The course helped me understand other's situations during a pandemic school year and led me to find ways to bolster the resilience of my section members," she says. "After I experienced deep connections and success using a trauma-informed leadership approach, I thought this might be a path to help others."
Busse says she observed peers in band struggling with how the pandemic had impacted their mental health, finances, and families, and heard other leaders attest to struggles of handling hard situations with their section members.
She augmented her observations with research into undergraduate peer leaders in other University student groups and found that they are uniquely positioned to use a trauma-informed leadership approach to assist peers adversely affected by the pandemic and other stress and trauma.
"They are able to relate to their peers' situations, provide access to the university's mental health resources, and support the resilience of their group's members through the goal-oriented and socially structured nature of student groups," says Busse.
She also consulted recent alumni of the band's leadership team to make sure this training was appropriate and relevant for that community. They helped her create hypothetical situations that were realistic and tailor the information to what leaders would want to know. With this feedback, Busse structured the trauma-informed leadership training to the specific nature and environment of the band and the leaders' roles in it. She presented the training in August of 2021, as the University March Band prepared for its 130th season.
"I utilized a pre-post study design to track the leader's understanding of trauma-informed leadership before the training and at the end of the season," she says. "The peer-led nature of this training was both exciting and nerve racking for me because I was not sure how my peers would react."
Her analysis of survey results indicated that the training was highly successful. Leaders demonstrated a significant increase in their knowledge, skills, and attitudes about trauma-informed leadership, and they expressed a deep appreciation for the knowledge in the workshop and a desire for more training.
"It's one of the strongest and most ambitious undergraduate theses I've seen in FSOS," says Lindsey Weiler, associate professor and FSOS honors faculty representative (and Busse's honors thesis advisor). "At a time when student mental health is a top priority, Claire is making a timely and significant contribution to her campus community."
Busse says this project gave her a deep satisfaction that comes with tuning into the needs of her community and creating something that makes a difference for them.
"I've always been a relationship-oriented person. My close relationships have always been the most life-giving part of my world, and I knew my future included working with people," says Busse. "I resonated so deeply with this academic pursuit of relationships because I loved studying what makes couples families healthy, resilient, and unique.
"I am so inspired by every person's vast resilience in the face of the hard things in life. I know from my studies that resources play such a big role in resilience, and uncovering how student groups can be a resource in building resilience has been so cool."
Busse says she has experienced firsthand how the marching band impacts the lives of its members. It ignites passion and members create close relationships and find family and belonging.
"Marching band is also hard," she says. "It teaches us how to push ourselves through the hard for the betterment of the band. This collective care that the band has for its members, especially during the pandemic, has been truly remarkable."

Busse will graduate this spring with degrees in both Family Social Science and Sociology of Law, Criminology, and Deviance and plans to pursue a position at a mental health agency or non-profit in the Twin Cities.
"I am passionate about pediatric family mental health, and I know a Marriage and Family Therapy degree is in my future, but right now I am itching to work with families," she says. "I will hopefully be working alongside some amazing families in our community soon!"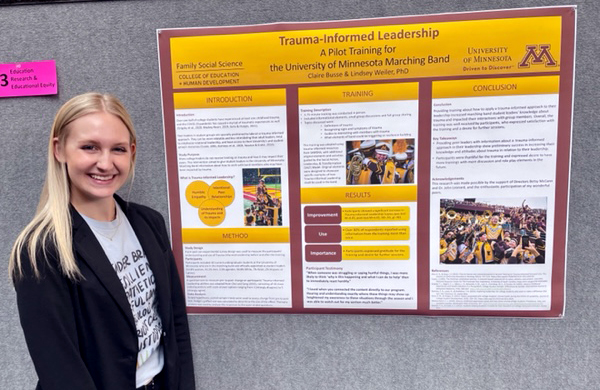 (Editor's note: In June 2022, Busse began working as a Family Case Manager with Lutheran Social Services in their Families Together Therapeutic Preschool.)