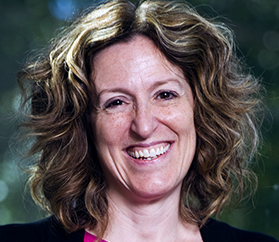 The American Psychological Association (APA) Fellows Committee has elected Abigail Gewirtz, professor and director of the Institute for Translational Research in Children's Mental Health, to Fellow status in the APA, effective January 2020.
In a letter to Dr. Gewirtz, the Committee wrote, "Fellow status is awarded, in part, on the basis of evaluated evidence of outstanding contribution in the field of psychology….. The field of psychology is certainly enhanced by your diligent work and commitment, and the public is better served."
The APA states that "Fellow status is an honor bestowed upon APA members who have shown evidence of unusual and outstanding contributions or performance in the field of psychology. Fellow status requires that a person's work has had a national impact on the field of psychology beyond a local, state or regional level."
More about Dr. Gewirtz
KSTP-TV: Expert explains how to support children after mass shooting tragedies
Mom Enough: Teaching children civility in an uncivil world
CEHD's "Improving Lives blog" highlights Dr. Gewirtz's ADAPT project.