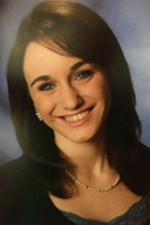 Elizabeth Sharer, a Ph.D. candidate in the Institute of Child Development, has received a $25,000 one-year, pre-doctoral fellowship from the Autism Science Foundation (ASF).
This year, ASF awarded three pre-doctoral and six post-doctoral fellowship grants to student and mentor teams conducting research in deep brain stimulation, gene and environmental interactions, epigenetics, pain response, neurobiology, and sex differences in autism spectrum disorder (ASD).
"Each of the projects selected for funding has the potential to improve the lives of people with autism," said Autism Science Foundation President Alison Singer. "We are pleased to support the work of this impressive group of young scientists and look forward to the progress that will be made as a result of their efforts."
For her research, Sharer will examine the female protective effect in infants with ASD. Four times as many boys as girls are diagnosed with autism, and evidence suggests a "female protective effect" as one explanation for the sex bias.
Sharer's study will be the first study to investigate the female protective effect in infants who show behaviors of concern, compared with those who develop typically and those who are later diagnosed with ASD. Sharer will be mentored by ICD Assistant Professor Jed Elison, Ph.D.