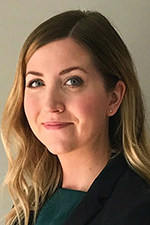 Rachel Boettcher, an alumna of the Institute of Child Development (ICD), is a 2017 recipient of the College of Education and Human Development (CEHD) Alumni Society's Rising Alumni award. Boettcher, earned a B.S. in early childhood education foundations in 2008 and an M.Ed. in early childhood education in 2015.
The CEHD Rising Alumni award recognizes alumni who have achieved early distinction in their career (15 years or less since graduation), demonstrated emerging leadership, or shown exceptional volunteer service in their communities.
Boettcher currently serves as program director of Caring for Kids at Interfaith Outreach & Community Partners, where she is working to close the opportunity gap and provide access to high quality early education programs for children living in poverty. In her role, she partners with school districts and community agencies to increase investment in early learning.
"We are so pleased to see Rachel's important work in securing high quality early childhood programming for families at risk recognized by CEHD," said Ann Ruhl Carlson, M.Ed., coordinator of early childhood programs in ICD. "Throughout her budding career, she has used what she learned and practiced during her undergraduate and graduate programs in early childhood education to make a difference in the world."