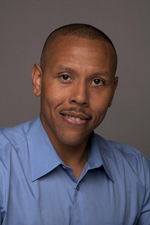 J.B. Mayo, associate professor in the Department of Curriculum and Instruction, received the Josie R. Johnson Human Rights and Social Justice Award at the University of Minnesota Equity and Diversity Breakfast on Nov. 17.
The Josie R. Johnson Award was established in honor of Dr. Josie R. Johnson in recognition of her lifelong contributions to human rights and social justice, which guided her work with the civil rights movement, years of community service, and tenure at the University. The award honors University faculty, staff, and students who, through their principles and practices, exemplify Dr. Johnson's standard of excellence in creating respectful and inclusive living, learning, and working environments.
Mayo was recognized for his dedication to equity and social justice in schools. Colleagues noted, in particular, his scholarship and outreach related to LGBTQ youth and teachers and his support for LGBTQ communities of color in school and community settings. Read more about Dr. Mayo.
Learn more about past award recipients.