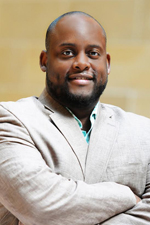 Muhammad Khalifa
, associate professor in the
Department of Organizational Leadership, Policy, and Development (OLPD)
, is the author of a new book,
Culturally Responsive School Leadership,
(Harvard Education Press, 2018).
The book focuses on "how school leaders can effectively serve minoritizedstudents—those who have been historically marginalized in school and society. The book demonstrates how leaders can engage students, parents, teachers, and communities in ways that positively impact learning by honoring indigenous heritages and local cultural practices."
Chapters cover topics such as promoting inclusive spaces, the role of community, and reflective school leadership.
Updated April 30, 2019