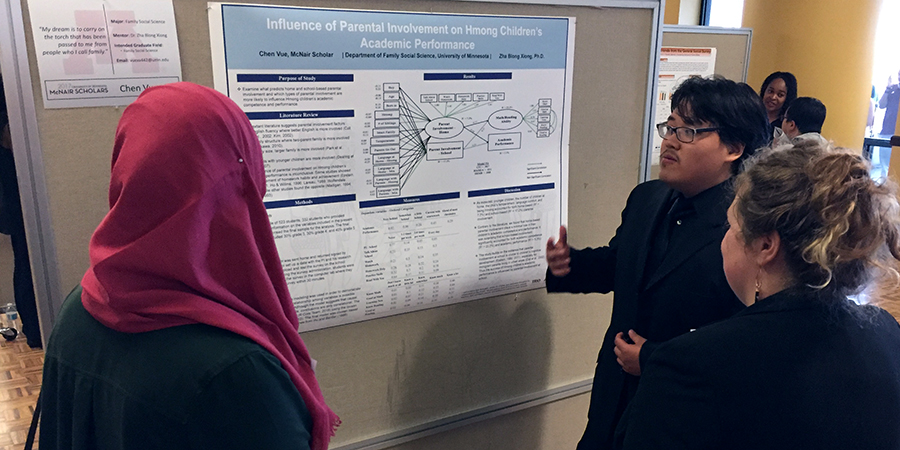 Family Social Science Senior Chen Vue drew from his own experience as a starting point on research that he hopes will help other students in his community make the leap to higher education.
A 2017 McNair program scholar, Vue, guided by his faculty mentor Dr. Zha Blong Xiong, a professor in the Department of Family Social Science, examined how much a parent's involvement in their child's school and at home influenced academic achievement and performance.
His project grew out of the challenges he overcame to attend the University of Minnesota.
"My research was about what predictors would engage parental involvement at home/school that would influence Hmong children's academic performance," says Vue. "I chose this topic because it connects to my story growing up as a low income immigrant student struggling in my academics. I want to use this research as a bridge not for myself but for others to follow into graduate school and research. I plan to continue to study parental involvement as I progress into graduate school."
His research project included a review of current literature that suggested that homes where two parents are present, the degree of English fluency, the size of the family and the age of children all had an influence on academic performance, but results were inconclusive. Vue and his team worked with a Twin Cities elementary school and parents to conduct survey of 332 students. His research indicated parents' engagement with their children's school and teachers had a bigger impact than just their influence at home.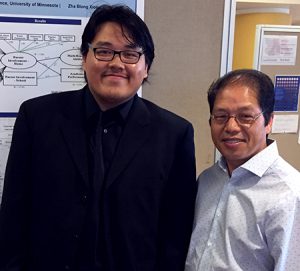 "I believe Chen learned a lot during the summer about the research process, from creating a research question to selecting the appropriate variables for the analysis," said Xiong. "Chen is such a brilliant, hardworking scholar. I was so glad to have the opportunity to mentor him. I have really enjoyed working with all the brilliant students in the McNair Scholars program."
About the McNair program
Named for Physicist Ronald McNair, who was a member of NASA's ill-fated Challenger space shuttle that exploded moments after liftoff in 1986, the McNair Scholars Program is among the educational opportunity TRIO programs funded by the U.S. Department of Education that help first generation college students with financial need, or those who are members of traditionally underrepresented groups.
The McNair prepares undergraduate students for doctoral studies through involvement in research and other scholarly activities with the goal to increase graduate degree awards for students from underrepresented segments of society.
Students receive financial support for a ten-week summer research apprenticeship that include weekly seminars that help them prepare for graduate school as well as year-round seminars and advising.
The program is administered at the University of Minnesota with support from the College of Education and Human Development, the Office of the Vice Provost for Undergraduate Education and the Office of the Vice President for Diversity and Equity.