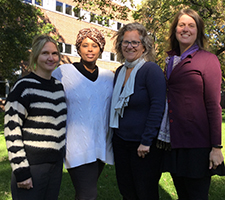 ICI's Research and Training Center on Community Living (RTC-CL) has launched a new fellowship opportunity that aims to (1) increase the disability knowledge capacity within a community-based organization (CBO) that serves diverse and/or underrepresented families, and (2) inform ICI about how to increase staff/trainee diversity, support underserved individuals and families, and better serve diverse communities. Known as the Research and Training Center on Community Living Diversity Fellowships, the project began September 1 and is part of RTC-CL's ongoing efforts to address the professional and educational disparities experienced by historically underrepresented communities in Minnesota. It will also expand the Center's network to diverse staff and stakeholders. The Diversity Fellowship is funded by a one-year, $50,000 grant from the Administration on Disabilities' Excellence in Developmental Disabilities National Training Initiative in the Administration for Community Living, U.S. Department of Health and Human Services.
This project will fund two Fellows. One will be a CBO staff member who serves underrepresented Minnesota families and is interested in the disability field. The other Fellow will be a graduate student or MNLEND (Leadership Education in Neurodevelopmental and Related Disabilities program) alumna/alumnus or a person with emerging expertise (which may include lived experience) in serving individuals with intellectual or developmental disabilities and their families, and who is interested in community work. Both Fellows will commit to a year-long project chosen in collaboration with their CBO and RTC-CL mentors.
Jennifer Hall-Lande (pictured at right) is the project's Principal Investigator (PI) and Heidi Eschenbacher (third from left) is Co-PI. Other project staff are Rebecca Dosch Brown (left) and Anab Gulaid (second from left).
For further information on this opportunity, or to apply, please click here. Applications are due October 22 at noon Central Time.