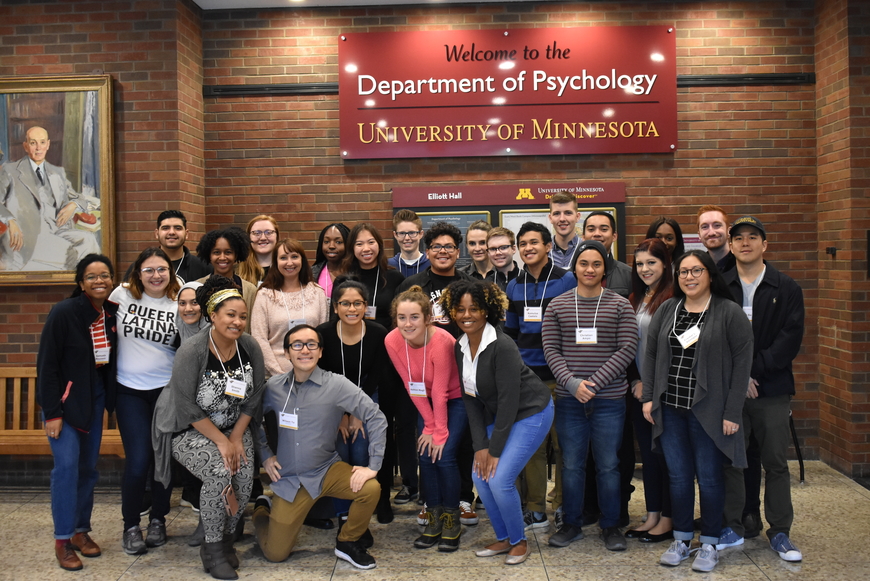 The Institute of Child Development (ICD) and the Department of Educational Psychology are pleased to support the 5th Annual Diversity in Psychology Program at the University of Minnesota (UMN).
The program is sponsored by the UMN Department of Psychology and the College of Liberal Arts with support from ICD and the Department of Educational Psychology in the College of Education and Human Development.
The Diversity in Psychology Program is designed for individuals who are historically under-represented in psychology graduate programs and who are interested in learning about graduate training in psychology, child psychology, and educational/school psychology at the University of Minnesota.
The program will feature a coordinated set of formal and informal experiences designed to familiarize participants with strategies for constructing successful graduate school applications, and to provide them with the opportunity to learn more about the experience of graduate education in UMN psychology departments.
To be eligible to apply, individuals must:
be enrolled in a college or university as a junior or senior, or who have graduated within the last two years (i.e., 2017 or thereafter). Individuals currently enrolled in a terminal masters-level graduate program in psychology are also eligible. Students currently attending the University of Minnesota are eligible to apply.
identify as a member of groups underrepresented in graduate training in psychology, including ethnic and racial minority groups, low-income backgrounds, persons with disability, LGBTQ+, military veterans, and first-generation college students or graduates. Please note that international students are not eligible to apply.
Individuals must also meet one of the following criteria:
be committed to pursuing doctoral training in either child psychology or educational/school psychology OR
be committed to pursuing doctoral training in psychology in one of our programs of research: Clinical Science and Psychopathology; Counseling Psychology; Cognitive and Brain Sciences; Industrial/Organizational Psychology; Personality, Individual Differences, and Behavior Genetics; Quantitative Psychology/Psychometric Methods; or Social Psychology.