"As a school social worker, I am a part of a multi-disciplinary team that strives to help serve our students and families, not only academically, but to become the best person they can be in the world outside of school."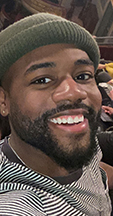 Why did you pursue a Masters in Social Work (MSW), and what made you choose the University of Minnesota School of Social Work?
I pursued my MSW because I have always wanted to work as a school social worker. School social work has been on my heart since I was 14 years old. Working in an educational setting requires you to have a MSW, and nothing was going to get in the way of me landing in a school.
As crazy as it sounds the U of M School of Social Work was the only program I applied for. Not because I was overly confident that I would get in – but I felt that it was meant to be. Everything happened to be falling in line for me, and the last step was getting into this program. After reading about the program and connecting with someone who worked there, I knew it was the place for me: the place to advance my skills in social work surrounded by people who wanted to do the same.
How are you applying your professional skills in your career at this time?
The biggest skill that I apply to what I do now is being a good and active listener. When you hear the stories of your clients or families, you need to be a good listener because when you actively listen by asking questions or inquiring about certain things, they feel you care. When they feel that you care, a relationship is formed and trust is established. I was not always a good listener to my family, friends or colleagues. I had to learn the value of listening and it has helped me tremendously in my personal and professional life.
In what ways does your role intersect with other fields and community responses?
My current role as a school social worker intersects with many different fields. I am a part of a multi-disciplinary team that includes clinicians, administrators, psychologists, teachers and counselors. This team, along with many outside community programs, strive to help serve our students and families in the best way possible, not only academically but to become the best person they can be in the world outside of school.
In light of the societal and racial inequities laid bare this summer by COVID and police violence, how have you felt your work shift in response?
This summer has been overwhelming for myself personally, and I know it has been troubling for our students and their families. There are tons of kids that haven't had the space to process their feelings about how social and racial injustice is impacting them, let alone what has happened right here in their city. My work shift has to be rooted in being a co-conspirator by taking action in the school system that has failed many of our students. In order to be a part of the change, I have to be a part of the fight by leading anti-racism work not only in my site but also across the district to force the hand of the decision makers. My work went from being about me pursuing my dream of becoming a school social worker, to being a school social worker that helps my students pursue their dreams without having to worry about their skin color being a barrier.
Where/how do you see our field evolving to support the social justice values of our profession?
I think we are doing it now step by step. We have more social workers across settings stepping up and speaking out on social justice issues. One of the most important social work values is advocating for social justice and fighting against social injustice. We promote the equality of opportunity for the people we serve. Take me for example: I never felt comfortable using my voice to speak out on social justice issues, publically or in the classroom. Fearing the stereotype of being that incompetent Black student, I stayed silent. We can't be silent out of fear of having the wrong answers, and I hope to instill confidence in the folks who struggle with this: We need to hear you.