"I believe my book provides an environment for those that are on similar paths like the one I was on years ago—to feel supported, empowered and less alone; to gain validation as well as education on how to navigate their own cancer journey."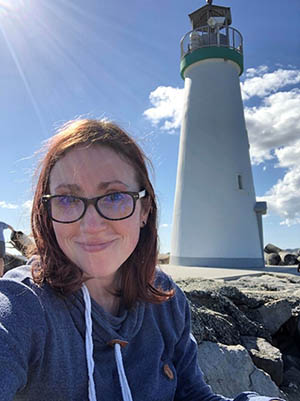 Why did you pursue your MSW, and what made you choose the University of MN program?
A combination of things led me to return to the University of Minnesota for my MSW after completing my bachelors in cultural anthropology. From a very young age, I was quite aware of the lack of cultural diversity in my primary school after what I had experienced at my intercity daycare. Later on, my work with a disabled adult for two years opened my eyes further to societal barriers and injustices and I decided I wanted to learn how to advocate for others in a more impactful way, which led me back to the U and the School of Social Work. 
How are you applying your professional skills in your career at this time?
I have worked in mental health settings for the past twelve years both out in the field and within the corporate environment. I currently work for a health insurance company in their behavioral health department.
I use my professional social work skills daily to do intake assessments with members who are seeking mental health and/or substance abuse services. Accessing these services can be very stressful at times for the caller, which requires de-escalation through a mix of empathy and professionalism. My drive to advocate for my callers is a big part of what makes my role so rewarding. 
In what ways does your role intersect with other fields and community responses?
In my current role, I often receive calls from members that are having thoughts of hurting themselves or others, or are currently under the influence of substances, which I quickly triage to a crisis clinician for additional support. I also connect members to case managers within the company's community support program that can support with essential resources including housing, bills, medical care and more to help them meet their comprehensive health needs.
How has your identity as a social worker influenced your journey through illness and widowhood?
I was very quickly thrown into the world of cancer without a guidebook or map, and used my social work research skills to help find resources online to walk me through the uncharted waters of what I later knew to be my norm for many years. I think I would have been the fighter I was for my husband regardless, but my social work advocacy skills helped not only me, but allowed me to fluently and readily offer resources and assistance to other cancer patients, spouses and supporters. After my husband died I wanted to dive in deep to work through my grief via literature, pursing a certification in grief counseling, and joining widow support groups online, which I don't believe I would I have done without my social work background. 
How has your newly published memoir, Wife, Widow, Now What? been part of your own healing, as well as a resource for those with similar experiences?
I was only 28 when my 35-year-old husband of nine years was diagnosed with acute lymphoblastic leukemia. I knew no one at the time that was going through the same thing I was, which left me feeling isolated, alone and a bit lost. The book tells the story of my journey from day one of my husband feeling ill, all the way to four and a half years later when I have healed, started a new job and fully rebooted my life. My narrative intersperses the CaringBridge, Facebook and Instagram posts from that time in chronological order, along with music I listened to that got me through those years, and includes a step-by-step resource guide. I had to learn everything from scratch, so the picture I paint of the cancer journey is raw, open and honest while also reflecting on how beautiful it all is, despite the trials and difficulty. I truly wished I had had something like this this book to help me not feel so alone, especially when I became a widow. The tips, tricks and handholding in my story offers a feeling of kinship, of talking to a friend who isn't sugarcoating their experience, but one that has an authentic interest to help others and make things easier. I believe my book provides an environment for those that are on similar paths- like the one I was on years ago- to feel supported, empowered and less alone; to gain validation as well as education on how to navigate their own cancer journey.
Learn more about Rachel's journey and her new book: