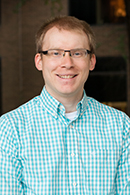 Brandon LeBeau decided to pursue his Ph.D.immediately after earning his bachelor's degree.
"I was a little naive to what graduate school would be like, he recalls. "I was fortunate to have excellent mentoring early in my graduate career that opened up many opportunities later, including my consultation work and working on a major research grant with my advisor."
LeBeau, an alumni of the quantitative methods in education (QME) program PhD '13, is currently assistant professor of educational measurement and statistics at the University of Iowa. In his position, he teaches applied statistics courses at the undergraduate, masters, and doctoral level.
When asked about his experience at the University of Minnesota LeBeau says, "I enjoyed the program due to the approachable, challenging faculty and close-knit group of graduate students. I was fortunate to be part of a cohort who enjoyed working together in classes and projects, but also got along well outside the classroom in social situations. In this sense, the program, both faculty and student interactions, felt more like a family for me."
Outside of work, LeBeau enjoys running and reading. He also has stayed true to the Gophers long after graduation, "I watch Gopher Football almost every Saturday they play even while in enemy territory at the University of Iowa."