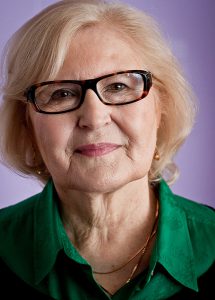 Unanswered questions, uncertainty and the disruption of family and work life due to COVID-19 causing a pandemic of anxiety and distress. What can help? Pauline Boss, professor emeritus of Family Social Science, says giving it a name is a start.
"What is distressing us is not just the virus, but the ambiguity surrounding it, what it will do, and what we should do about it," says Boss. "Science provides some answers but we are experiencing uncertainty, and that's very stressful for a society that is accustomed to solving problems and having definitive answers."
For more than 30 years, Dr. Pauline Boss' groundbreaking work has focused on the interdisciplinary study of ambiguous loss, defined as loss without resolution. Connecting family science and sociology with family therapy and psychology, Boss has created a road map for mental health professionals to assist their clients in finding meaning and discovering hope in the face of ambiguous losses. The Ambiguous Loss framework has been used by professionals across cultures and disciplines to help individuals cope with losses that remain unclear and without certainty.
"The ambiguous loss framework is useful in situations such as this – full of uncertainty – as therapists and mental health professionals can plug into it their own needs and their client's needs," says Boss. "Theory such as this provides a map, not definitive strategies, and what we need now is a map – this is new territory for us all."
Online certificate course
Ambiguous Loss online certificate program
This online certificate program gives a variety of mental health professionals the opportunity learn from Dr. Boss via video and five online modules at their own pace. The Department of Family Social Science is offering a 25 percent discount off the program. Participants registering for the full course can use the following code for a 25 percent discount: FSOSSPRING25. Discount expires August 1, 2020.
More resources
CEHD Connect magazine article, "Absence and Healing"
Loss, Trauma and Resiliency by Pauline Boss published by WW Norton
Videos available on the National Council on Family Relations website
"A Conversation about ambiguous loss theory"
"Finding meaning to cope with Ambiguous Loss" (video and downloadable slides)