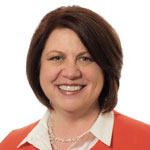 Amelia Franck Meyer (M.S.W. '01), CEO of Anu Family Services, was named one of twenty-three 2015 Bush Fellows by the Bush Foundation. Bush Fellowships are a recognition of extraordinary achievement and a bet on extraordinary potential. Franck Meyer was chosen based on her groundbreaking work on healing grief, loss, and trauma for youth, and her transformational vision for large scale systemic change within the child welfare system.
"Amelia's proven leadership combined with her contagious spirit and commitment to improving the child welfare system inspired the selection committee. We are excited to have her as a 2015 Bush Fellow and look forward to seeing her impact in the community grow in years to come," said Stephanie Andrews, Bush Foundation Leadership Development Director.
Franck Meyer has been CEO of Anu Family Services since 2001 and has built an award winning organization that is achieving nationally leading outcomes in finding permanence for children in out-of-home care. She intends to use the Bush Fellowship award to further her leadership training and build on her success in creating full system wellbeing within the child welfare system across the country. Franck Meyer has been asked to share her message and expertise, providing training and consultation to system leaders, legislators, front line staff, educators, and students across Minnesota and Wisconsin and in over 30% of the states across the country last year. The Bush Fellowship will provide an opportunity to build on this growing momentum and desire for much needed systems change.
About Anu Family Services: Anu Family Services is a national leader in child permanence and placement stability for children in the child welfare system. Based in Hudson, Wisconsin and funded in part by the United Way St. Croix Valley, Anu has been serving children and families in the St. Croix Valley since 1992. Learn more about Anu.
About Bush Foundation: The Bush Foundation invests in great ideas and the people who power them and encourages people and communities to think bigger and think differently about what is possible across Minnesota, North Dakota, South Dakota, and the 23 Native nations. Learn more about the foundation.